10 Certificate Program Mistakes to Avoid
You'll learn from your own experience as you develop a certificate program, but here are some common mistakes to avoid.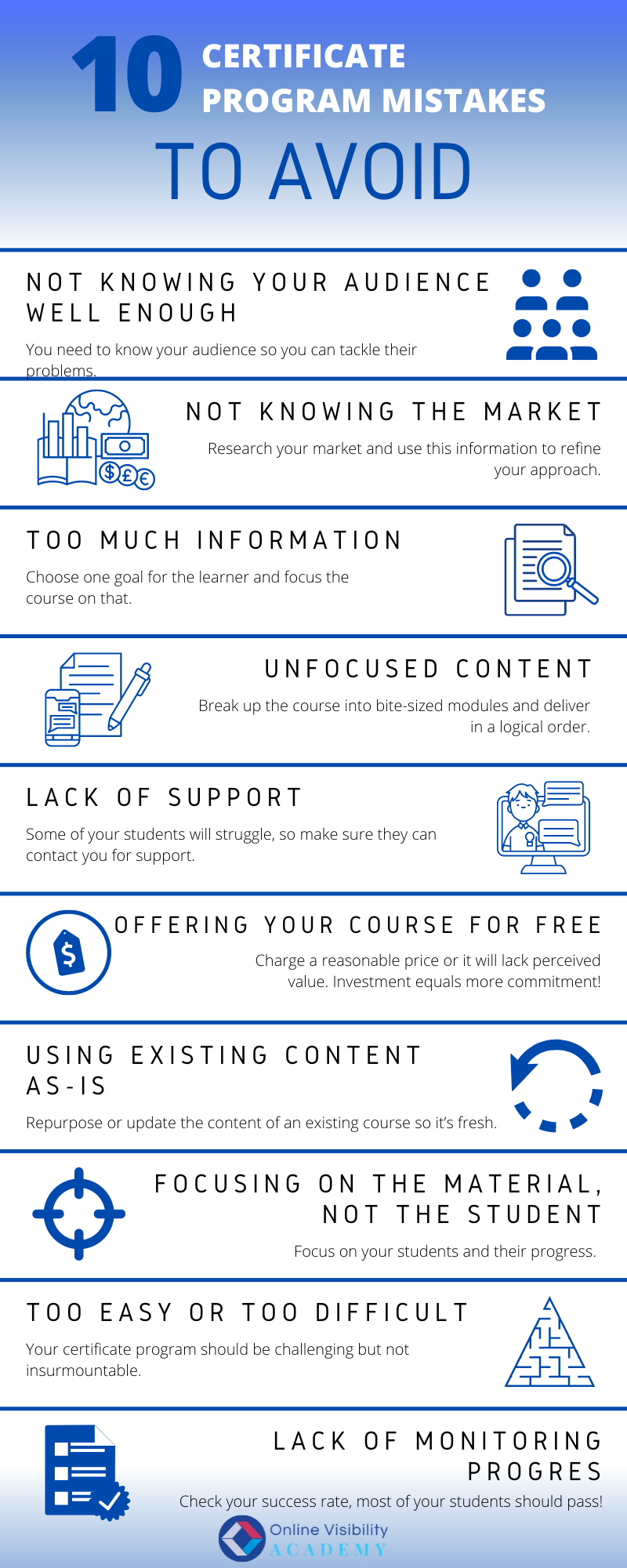 Not Knowing Your Audience Well Enough. You need to know your audience well to tackle their problems and issues and offer viable solutions.
Not Knowing the Market. Do you know what types of course certificates your competitors are offering? What other options does your audience have? Do some research and use this information to refine your approach.
Too Much Information. Don't try to pack everything into your course. Choose one goal for the learner and focus the course around that. You can create additional courses for further topics.
Unfocused Content. Don't give your participants everything at once. Break up the course into bite-sized modules that flow logically from the beginning to the end.
Lack of Support. While designing your certificate course, give your participants opportunities to contact you for support. Some will struggle, and you need to be there for them.
Offering Your Course for Free. You should charge a reasonable price for your course certificate, or it might seem like it lacks value. When people pay for a course, they have made an investment in themselves, so they tend to be more committed. They'll work harder to master the material.
Using Existing Content As-Is. Choosing a program you already offer is a handy shortcut, but repurpose or update content so it's fresh.
Focusing on the Material, Not the Students. Focus on your students and their progress, not solely on the material for the course. The material is there to help the students accomplish their tasks.
Too Easy or Too Difficult. Strike a good balance so it's not too easy or too difficult. Your certificate program should be challenging but not insurmountable.
Lack of Monitoring Progress. Check your success rate and make changes where needed. A majority of your students should pass the final exam.
Want to learn more about how you can create your own certificate program?  Head over here: