You're undoubtedly familiar with branding in business, and in life. So does branding apply to blogs? Of course. Branding your blog is a way of showing what it and you, stand for.
If I show you 4 overlapping silver rings, you're going to recognise the logo as Audi.
If it's five coloured, overlapping rings you might think Olympics.
If I say, "just do it," you're going to think Nike and visualise their "Swoosh."
If I said straight-talking, no sugar-coating blogging advice you'd think of me, right
This is branding.
If it "does exactly what it says on the tin" you'll know that something is simple and effective, thanks to Ronseal. Branding is creating a recognisable, memorable identity. Big companies do it; small companies do it, and your blog can and should do it too.
Why brand your blog?
Branding is about creating a personality with your audience. A rapid association that stays in the front of their mind. The personality builds a connection, and the reader likes that. If you personally brand your blog, then it may be harder to sell, but self-branded domain name would be even hard to sell. Who would own your name if you sold it? I digress…
How do you brand your blog?
There's more to branding than a logo, more than just consistent use of colour. When you think Nike, you think running, endurance, achievement. You think Just Do It. I've heard Just Do It used as a verb; people telling others to Nike something. A brand also reflects your values.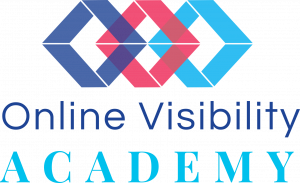 The OnlineVisibilityAcademy.com branding is bright and colourful. We have a pinkish-red, sky-blue and Bay of Many blue. The pinkish-red is the accent colour and doesn't dominate, but the passion element is there to be seen. The two blues are balanced with white. The blues convey the calm, cool and dependability of our brand. The font on our website is intentionally easy to read, yet one of the fonts in our logo is a transitional design with a European flair! But a brand is more than just colours and fonts; it's the personality of your business. If you look closely you'll see the hexagons are actually arrows.
Branding your blog is about creating a clear but consistent message. Here are three questions that will start the blog to brand process for you. Answer these and you'll start to understand your own blog's brand.
What is my blog about and who do I help?
Can your readers easily identify what you are about and what you stand for? What are the values that you align with, and are they recognisable to your tribe, your readers? How do you help your readers?
What is my message?
What's the theme, the core message of your blog? When your reader reads your content how do they feel? Is that consistent with your message? Do your images help convey your message? The language you use, does it support your message?
What consistent design elements do I deliver?
What type / font do you use? What graphics, and where are they located on your blog posts? Is the layout the same throughout your site?
When these three questions can be answered and applied to every single blog post, guest post, and audience interaction, you're on your way to establishing a solid brand for your blog. The key is consistency throughout your content.
If your blog is about using technology to be more productive, then a blog post about running wanders from this core vision. It will detract from your goal and message and your readers are not quite sure what they're getting. You can rebrand if you find yourself wandering off-topic more frequently than you'd like (I rebranded in 2012 to include social media as that had become an increasing part of blog promotion). And in 2013 I started to include the little red-headed character and her friends in my images. In 2015 I got fed up with them and started to leave them out… And I replaced her with styled desktops, only to replace those with skylines! Brand identity crisis? Maybe, but clarity came when we put together the OnlineVisibilityAcademy.com brand.
Branding your blog isn't something to fear, but something to embrace as it keeps you and your content focused, you know exactly what you stand for, and so will your readers. It might seem like writing to Brand is a chore, but it's a pleasurable, ongoing one. Once you find your voice, you'll also find that writing to a brand spec isn't as inhibiting as you thought!