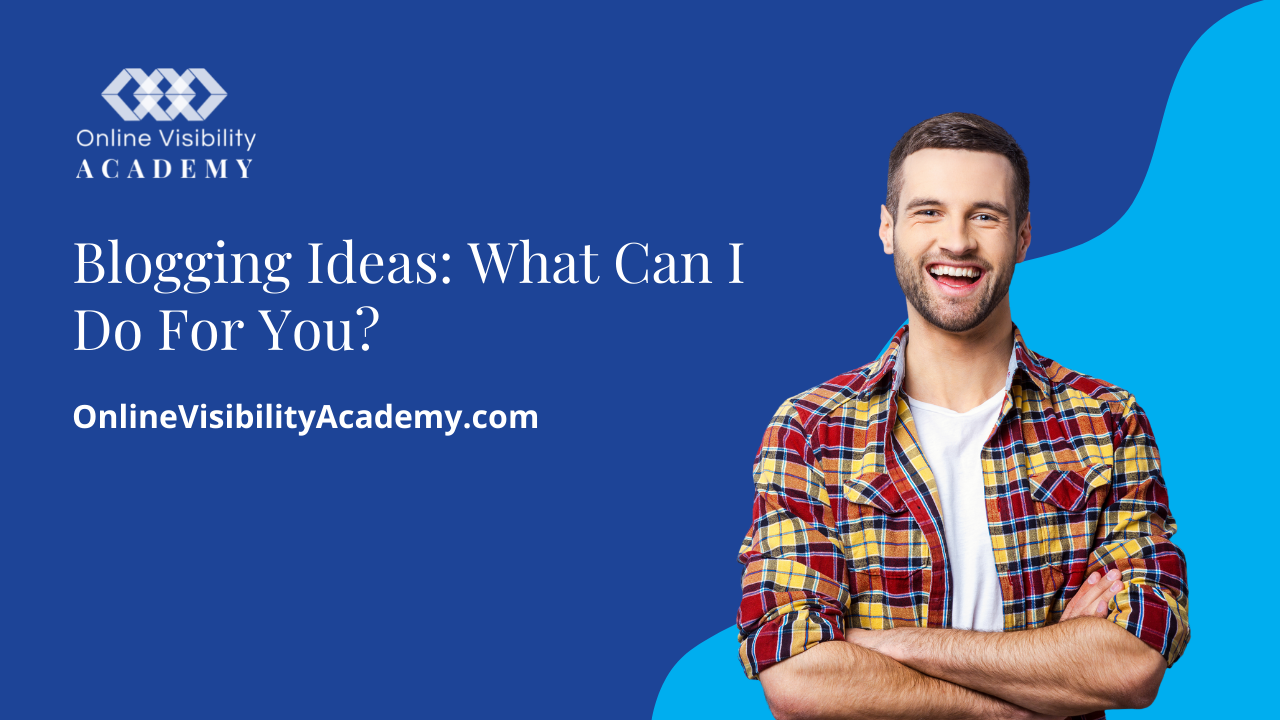 What Can I Do For You? is a topic that offers a chance to build a good connection with your audience. Share with them what you have in mind for changing their life for the better. It might be that one day, you got clarity on why you wanted to get in shape (to live longer for your family) and you can share this in your post to tell why what you do is important to you.
Why do I Blog?
Our fledgling transport company needed leads. When we first started marketing our business online back in 2006, it was tough. It was very similar to living in the wild, wild west I imagine. Things could be downloaded without your consent, Facebook didn't exist. Twitter was a twinkle in his daddy's eye and LinkedIn was still the place to be. And there was MySpace… MySpace is like your brain splashed onto a webpage. You could add photos and music, but who knew how to get photos off your camera and onto your PC? As for music… Anyway, MySpace was where you made friends and did business.
We needed to get leads for our business and I was directed to a site called BT Tradespace. I started adding my details… and it wasn't hard to update! I started to follow all the instructions to the letter. Then the site asked me if I wanted to blog or podcast? I looked at blogging and that was writing online and publishing it.
Ha! Not until hell froze over would I write anything online.
So I clicked Podcast. And do you know what that is? It's speaking online. It's talking out loud to people who are not in the same room as you.
And at that moment hell did indeed freeze over as I decided I'd blog rather than podcast.
I followed the instructions on BT Tradespace, and it said I had to write 50 words for my blog post. 50 words! That was like writing a novel to me. Don't laugh. 50 words for someone who barely wrote a sentence actually seemed like a harsh punishment.
So I started typing… and it took me 2 and a half hours to write those 50 words.
I finally pressed publish, and BT Tradespace then had the liberty to tell me I needed to do this 3 times a week. 3 times a fricking week! Where would I get those hours from?
But I did it. And it took 3 weeks for the phone to ring, and 6 weeks for the phone to ring on a daily basis.
Kevin said "I don't know what this blogging thing is, but you need to do more of it…"
So I did.
There wasn't a lot of people to learn from back then, so I taught myself. All the time I was teaching myself, the business was growing and in 2009 we won a 7 figure contract to deliver car parts all over the world.
Our client roster was full of names like Disney, Tiger Aspect, Eurotunnel, Fords, Hyundai, ACAS and the NHS. Companies that most people dream about working with would ring us up and ask for Kevin by name.
Our digital footprint was bigger than DHL, FEDEX and UPS combined and we were just a small, regional delivery company in Essex in the UK. I was a stay at home mum, with 3 children, 2 of them under 2 years of age at the time! Zero writing experience, and people would happily tell me that I'm verbose, boring, too overweight to be online, too female to be online, to whatever… Yet I carried on because it worked for businesses.
Blogging on a regular basis (3 times a week!) takes your business from nothing to 7 figures. It builds your reputation, drives traffic and leads and it makes you visible in the search engines.  Why would you want to do anything else?
This is What I Can Do For You…
You can talk about how you want to use what you went through and felt to enable the audience to grow or overcome obstacles, too. It might even be something you witnessed others going through, and you had a passion to step in and lift others up.
Content Format for This Type of Content
If you're talking about writing, you need to create the content in writing. If it's audio-based… use audio. Be congruent here. If you're talking about what you can do for someone and you've never done that before I'd recommend saving this post until you have done it. You need to come across confidently in your language.
Calls to Action for This Content?
To book you! Link to your contact page or insert the code for your booking form.
It's good to give your readers some idea of what got you into this niche and where you plan on leading them. That way, they can either align with you or weed themselves out of your audience if they feel the direction you're taking isn't the path they want to be on.