We're already a good way through our thrilling content marketing challenge. If you've been following along, you know that we've covered the essentials: strategy, audience, distribution, purpose, planning, and those vital headlines.
Now, we're moving onto something that can truly spice up your content game: Leveraging Different Content Formats. The power of content is not just in the message but also in how it's packaged. Let's dive right in!
The Magic of Mixing Content Formats
Content doesn't always have to be a wall of text. Different formats keep your audience engaged, expand your reach, and give your creativity a chance to shine. Here's how you can play around with various content types:
Blog Posts
Blog posts are the bread and butter of content marketing. From educational essays to exciting news, blogs allow engagement through comments.
For Tech Industry: "The Future of AI: A Comprehensive Guide" For Food Blogs: "10 Summer Recipes You Must Try This Season"
eBooks / Guides
In-depth, valuable content, often gated for email subscriptions. Ebooks are chapters of wisdom on a subject.
For Fitness Gurus: "The Ultimate 30-Day Weight Loss Program: Download Now!" For Educators: "A Complete Guide to Effective Online Teaching"
Infographics
Visual, vibrantand visible! That's infographics for you. Infographics break complex data into digestible nuggets.
For Healthcare: "A Timeline of Medical Breakthroughs in the 21st Century" For Environmental Blogs: "Plastic Pollution: Facts and Figures"
Videos
The dynamic and interactive nature of videos can create a unique connection with viewers.
For Travel Vloggers: "Exploring Hidden Gems of Paris: A Video Tour" For DIY Channels: "Build Your Own Treehouse: Step-by-Step Tutorial"
Podcasts
The audio content for the multitaskers. Share insights, interviews, and more.
For Entrepreneurs: "Startup Stories: Interviews with Successful Founders" For Literature Lovers: "Poetry Unplugged: Weekly Readings and Analysis"
Webinars / Events
Exclusive and interactive, webinars offer direct engagement.
For Financial Consultants: "Investment 101: Free Webinar for Beginners" For Cooks: "Live Cooking Class: Perfect Your Pasta Making Skills"
Email Newsletters
Personalized letters to your audience that nurture your relationship.
For Fashion Brands: "Weekly Style Tips Straight to Your Inbox!" For Non-Profits: "Monthly Update: How Your Donations are Making a Difference"
Best Practices for Leveraging Different Content Formats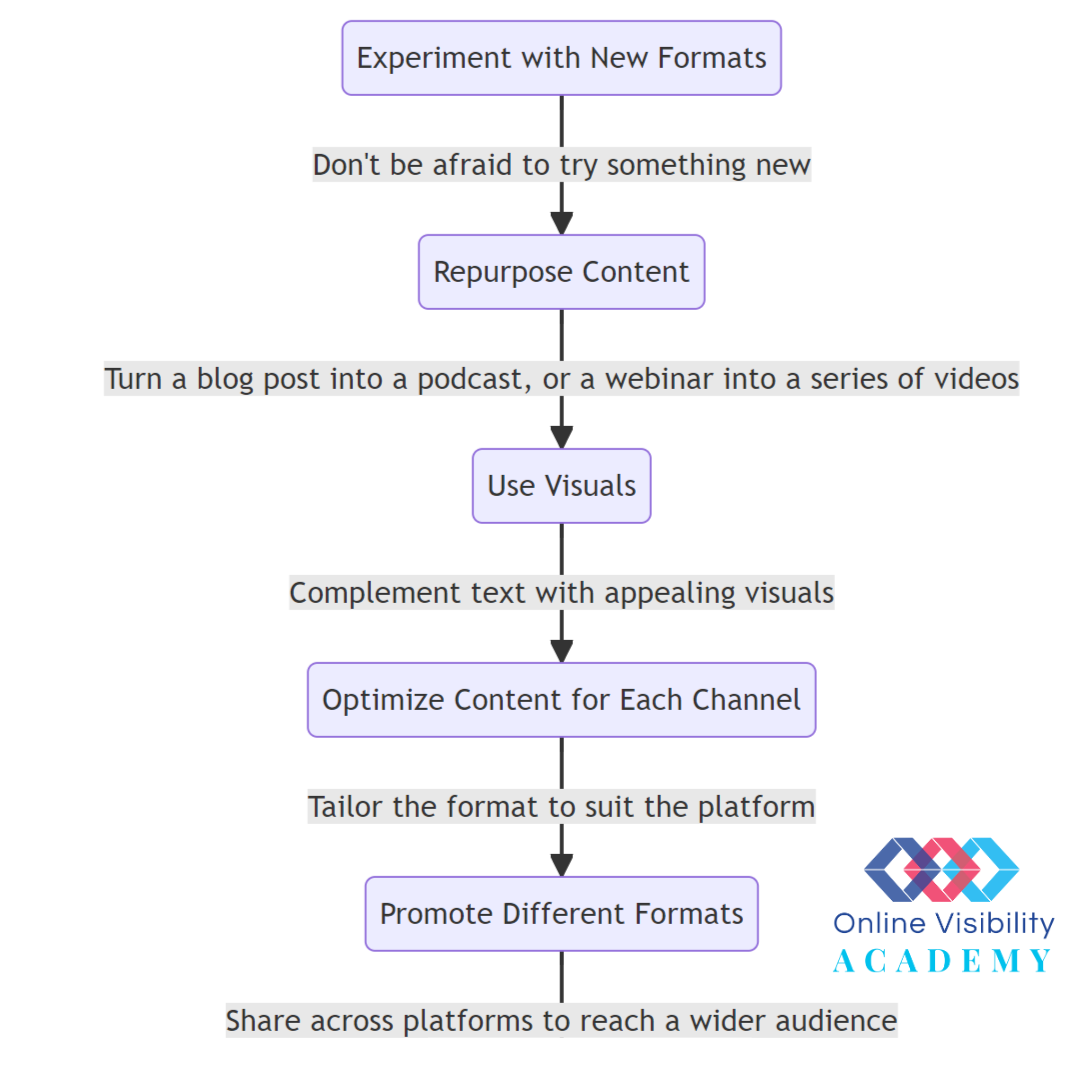 Experiment with New Formats: Don't be afraid to try something new.
Repurpose Content: Turn a blog post into a podcast, or a webinar into a series of videos.
Use Visuals: Complement text with appealing visuals.
Optimize Content for Each Channel: Tailor the format to suit the platform.
Promote Different Formats: Share across platforms to reach a wider audience.
Case Study: Leveraging Different Content Formats for 'Green Earth Initiative'
The 'Green Earth Initiative' was a small environmental organization looking to increase its impact. By leveraging different content formats, they achieved astonishing success.
Blog Posts: Shared informative articles on environmental topics.
Infographics: Visualized pollution data that went viral on social media.
Videos: Collaborated with influencers for conservation awareness.
Email Newsletters: Kept supporters engaged with monthly updates.
Within a year, their reach expanded tenfold, leading to increased donations, volunteer sign-ups, and event participation.
Wrapping Up Day 9: Leveraging Different Content Formats
The world of content is vast and colourful. By leveraging different content formats, you're not just speaking to your audience; you're singing, painting, and conversing with them. Experiment, and have fun with it!
Your thoughts, questions, and examples are eagerly awaited. Stay tuned, Day 10 is around the corner, and it's going to be a blast