Are you seeking higher conversions for your online course sales pages? If so, you're in the right place! Introducing social proof software—a game-changer for boosting conversions and sales. These nifty tools display a small pop-up at the bottom of the screen, revealing recent actions taken by visitors on your website, such as enrolling in your course. Imagine this: you land on a website and spot a notification like, "Laura from London just enrolled in this course." That's social proof software in action, and it's bound to pique the interest of potential customers.
Provesource is one such popular tool, used by over 40,000 businesses to amplify conversions on their sales pages, landing pages, and eCommerce stores. It's time to explore what makes Provesource stand out in the world of social proof software and activate the FOMO in your course sales page visitors.
Let's delve into why Provesource is so well-liked.
Provesource is budget- and -user friendly
It's free for the first 1,000 unique visitors to your site, making it accessible even for those with limited budgets. Keep in mind that the notification will display the Provesource branding. To remove it, you'll need to opt for an affordable upgrade. For me, this makes it an obvious test it and see what happens. Setting it up takes mere minutes. Simply copy and paste the code snippet onto your website, and you're good to go! Video tutorials are available to guide you through the process, so no technical expertise is required.
Provesource is always up and running!
This speaks volumes. The product has proven itself across tens of thousands of websites, boasting consistent reliability. I love it when a conversion tool is reliable, it just makes life so much easier!
Provesource is mobile-responsive
Notifications will appear on mobile devices as well and are responsive, making this tool compatible with various screen types and resolutions.
Provesource offers a money-back guarantee & exceptional support
After purchasing Provesource, you can try it risk-free for 14 days. If you're not satisfied, reach out to their live chat and request a refund. Their support team is top-notch as well.
Provesource works on unlimited domains
The beauty of Provesource lies in its ability to be used on all your domains, managed from a single interface. No need for multiple accounts, and your unique visits are calculated based on the total across all sites, which is cost-effective. So if you  have multiple courses and sales pages on Thrive Cart, Thrive themes and Zenler, you can use Provesource on all of them and not worry about additional licenses.
Provesource offers diverse notification styles
This means you're not limited to displaying opt-ins or sales in your notifications. You can create a combo or just show a counter. Notifications can be customized to suit your needs, and you can even display reviews from other platforms, which is handy if you have a lot of Google reviews, or reviews on Trustpilot.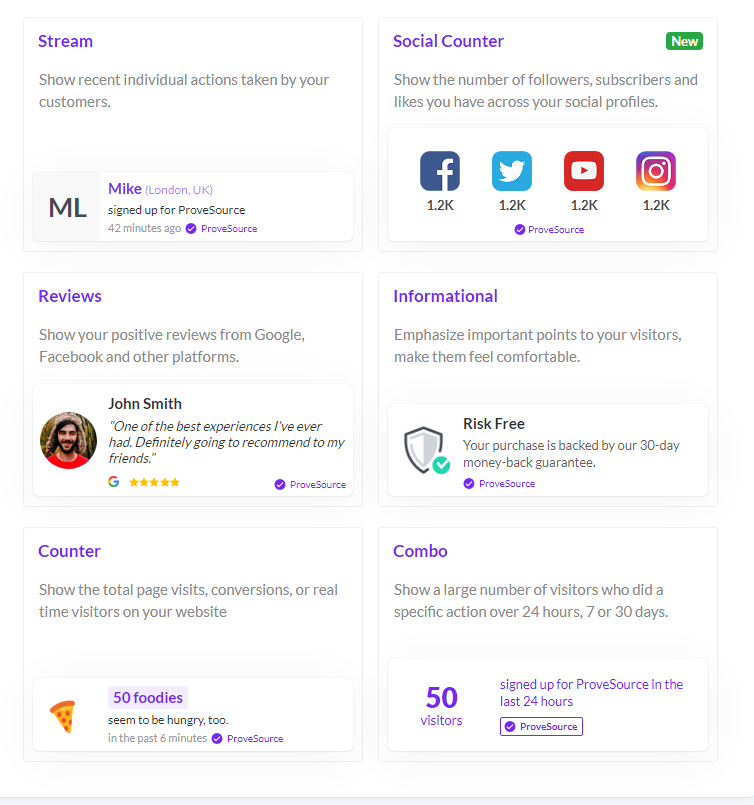 Provesource boasts numerous integrations
Its versatility allows for integration with countless third-party tools, such as ClickFunnels, Zapier, Shopify, Teachable, Kajabi, WebinarJam, WordPress, Cloudflare, Stripe, PayPal, and more! With a snippet of code, I've also added it to Thrivecart so students can see that others are enrolling in the same course.
Provesource provides inspiring case studies
Their official website features a case studies tab that offers valuable insights into how real businesses use Provesource to boost sales and conversions. You'll find plenty of useful tips to apply to your own business.
Provesource includes tracking
You can track your web form conversions and free course sign-ups using Provesource. It also offers the option to create goals, allowing you to track your ROI. While I haven't set these up yet, they're on my to-do list. Talking of tracking, how does this fit with GDPR? You can actually display as Anonymous and instead of the person's name, it will say someone has just purchased a course. And, you can just display first name and location. Laura from London would be any Laura in London, but it protects the purchaser.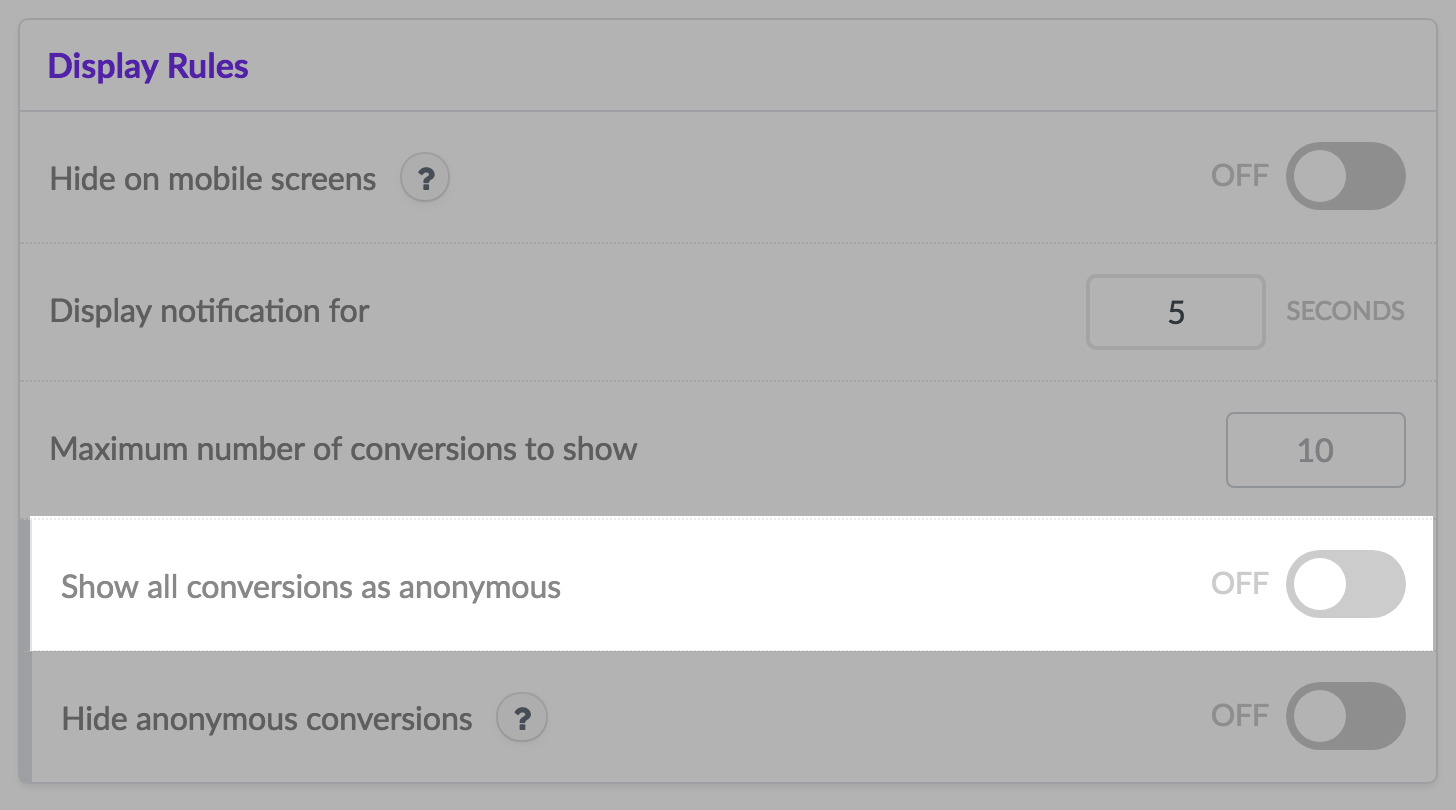 Provesource grants full flexibility. You can control the timing, location, and display of notifications on your pages, among other settings. You can hide location details, product information, display anonymous conversions, and much more. Provesource offers extensive control over your notifications' appearance.
Provesource is 100% genuine
Provesource is based on real, authentic, and verifiable actions—there's no fakery involved. I know there are some tools that offer fake social proof, but this isn't one of them. To be honest, I leave on the Provesource branding just so people know the sales aspect isn't faked.
The Downsides to Provesource
There aren't many cons when it comes to Provesource. Marketers in the 'make money online' niche may be sceptical of these notifications, as they're often overused on hyped-up sales pages or simulated. However, most people in other niches will be impressed by Provesource's notifications, resulting in a noticeable uptick in conversions.
As the business model is freemium, you can try Provesource before upgrading. If your site gets more than 1,000 visitors a month, you may find that the free plan doesn't give you enough time to fully explore Provesource's benefits.
Should You Get Provesource?
Absolutely! It's affordable, proven to boost sales and conversions, and the software is easy to use—not to mention, it works all the time. You can start with the free plan to see how Provesource works for you. It really doesn't get any better than this, so why not give it a try? You have everything to gain!