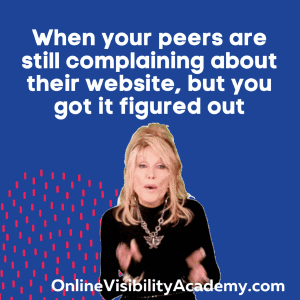 Have you ever come across an old email or phone number on a business' website? Or maybe they have outdated pictures or links?  This kind of thing happens A LOT more often than you think! And if someone tries to contact them through their website and gets no response…well, I'm sure we can all figure out what would happen next.
A website audit takes care of this, and other website problems. You're probably wondering, "What is a website audit?" Well, let me tell you. It's when you take inventory of your website in order to make sure that all the information on it is up-to-date and accurate. You can't just assume everything is fine with your site – especially if no one has been paying attention to it for a while!
Every year you need to assess your website
If you're like me, then the last thing you want to do is go in and take a look at what needs to be updated or changed. However, it's very important that we keep up with our websites and make sure they stay current and fresh. We already know Google likes current up-to-date content and can penalize sites for outdated content! It's scary but true!
While every website owner should perform a yearly website audit, the good news is that you don't have to be an expert webmaster or developer to do this. It can be helpful if you are familiar with how your website runs and what apps and addons do what. It's also important to note that there are companies available online that specialize in performing these audits for you. If you'd rather not deal with the technical aspects of this process, hiring someone to do it for you is a great option!
The benefits of doing an annual website audit include:
Increased traffic from search engines – During a website audit you will need to update content where appropriate and this could include keywords. Making sure your content is up-to-date will only help your search engine rankings.
Improved user experience – A website audit from a user's standpoint will be invaluable.
Better overall performance – If you enhance your content and user experience your website's overall performance should improve. There may be some technical aspects that need to be addressed as well, such as security updates.
More conversions from your site – With all the updates to your content and increased traffic from search engines, you will hopefully start to see more conversions. If not, you will need to review your lead and sales pages content again.
When performing your annual website audit there are 3 key elements you need to review.
Content – Content audits are something everyone should perform at least once per year as part of their overall content strategy. This is because the amount of competition in every industry has skyrocketed over the past few years and it's important to stay ahead of them by making sure your websites offer the best and most up-to-date content. This process allows you to check the quality of your website content, including text and images, as well as analyze how search engines are indexing it. Performing this analysis will determine if your site is still relevant to its target audience and if it's providing them with what they need. Once you're done with the content audit, you'll know exactly what needs improvement so that your site can continue performing at optimal levels.
Website Design – Performing a yearly website design audit is the best way to make sure your site looks and functions like it should. You can't wait until something goes wrong!  If you want your website to be effective in bringing in new customers, then it needs to be up-to-date with current design trends. You need to make sure that the site is mobile friendly and if not, fix any issues so that your website can work on all devices.
Security & Updates – A website is a living, breathing entity that needs constant care and attention. It's not something that's carved in stone.  It's important to remember that your website is more than a page on the internet – it's how people will find you online and interact with your brand. That means every little change you make has an impact on your business (good or bad), so it's essential to keep up with best practices in order to ensure the security of your site. The last thing you want is for someone to hack into your site and cause damage; by performing yearly audits, you can ensure the chances of this happening are minimal!
A website audit is a great way to get your website in shape and ready for the future. You can't predict what's going to happen, so you need to be prepared! Your audit will help you do this by taking inventory of all aspects of your site – from content and marketing strategies to technical issues.
These may seem like huge goals, but just taking it one step at a time will make it seem like a breeze. And if you can't do it yourself, you can book our team to complete it for you.
Just get in touch and book a call