If you're a business owner, and you have a website, you'll know you also need good, rock-solid hosting. Unless you're using an all-in-one solution like Shopify or New Zenler, you'll still need a place to host your website. Because web hosting is such a profitable business model, there are a lot of web hosting providers in the marketplace. This makes choosing website hosting a time-consuming process where you're still not 100% sure you've got the right one. This means you have to select the right website hosting for where you are right now, and know that there will be changes in the future as your website grows and your traffic increases.
Things to Look Out for When Choosing Website Hosting
Avoid 'lifetime hosting' at all costs. Whose lifetime they're talking about. Yours? The web hosting company owners? Another measurement of lifetime? No one really knows. Your business website hosting is not one area where you want to pay the least and cut corners. If your site goes down you lose money.
With a poor web hosting service, your site may crash often or be slow to load. So take a look at how much space you are offered in your package and monthly traffic allowances. You'll also want to look at loading speeds. Double-check security. You may get hacked due to poor security or even have your sites disappear overnight along with the web hosting provider. Make sure your hosting company is GDPR compliant. They process your data so a good web host will make it clear where they stand on GDPR.
Finally, take a look and see how you can access your website through the hosting company. This used to be cPanel with a lot of companies, it may be something different. Some services are WordPress only, other hosts allow all kinds of CMS to be hosted there. Others specialise in eCommerce, so have a good look. If you have an eCommerce site then having a host that knows how to deal with this is worth paying extra for.
There are countless horror stories when it comes to web hosting services. So, you'll want to go with an established brand that thousands of other marketers are using and swear by. One of the best web hosting companies around is WPX Hosting.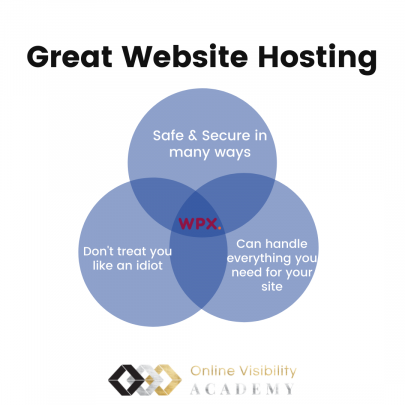 We were with Siteground for 4 years. We weren't unhappy with them until the final year. In 2019 we woke up and found our site that was getting a steady 700 visitors a day had nothing. We've marketed our business online since 2006, so we didn't panic as this sometimes happens. But the traffic didn't return the next day or the day after. After several support tickets we found out our site had been de-indexed and no one could tell us why. In fact, we were told categorically it was our fault. We didn't believe this was the case and hired a specialist to take a look. It wasn't our fault. We knew at this point we needed to move hosts and didn't know where to look, so I turned to bloggers that I follow for the answer and WPX kept on coming back in response. I then decided to look at the important things for us that we need in a web host:
Can handle traffic.  I don't want to be shut down anytime 3 people visit my site…
Is value for money. I don't mind paying for what's needed, I just don't want to be ripped off.
Will migrate for free or very low cost (don't want to waste money on a web host I may not stay with)
Free SSL certificates – I've 40 sites. You can only imagine the expense if I have to pay for them.
Security and Back-Ups
What happens if I get hacked?
User friendly
Able to install WordPress
Trustworthy
Great customer services
Could WPX do what I wanted and could we leave Siteground whom I no longer trusted?
WPX Hosting Can Handle Traffic
Matthew Woodward, a smart blogger I follow, decided to put several of the most popular web host providers through a 'stress test' to see which would hold up well. WPX Hosting came out the clear winner! It's that good. This is a web hosting service that can handle heavy traffic. Your sites won't go down and will load just as fast. In fact, if you're looking for a web hosting service that can load your site fast despite the images, videos, etc. that's on it, WPX Hosting is the answer.
WPX never overloads servers with hosting accounts, unlike so-called 'cheap' hosting which crumbles under any traffic load. WPX owns its own high-spec hardware, highly customized for performance and it's why WPX normally is at the top of comparison tables.
WPX Hosting is  GREAT Value for money
We'll be the first ones to admit that WPX Hosting looks more expensive than other web hosting providers such as SiteGround or A2 Hosting at first glance. However, WPX Hosting is truly next level and more for business owners who want a service that can handle heavy traffic and demands on their websites. WPX does NOT charge for malware removal from their customers' websites whereas many hosts expect their customers to spend hundreds of dollars on malware services like Sucuri (in most cases with WPX, the malware has already been removed without the WPX customer even being aware of an infection). Let me tell you from experience that being told an image from Canva (that I created myself) is malware and here's our Securi affiliate link to clear it up gets old and tired real quick.
Throw in the fact WPX has built its own FREE custom CDN (Content Delivery Network) with 25 endpoints around the world for consistent, worldwide loading speed that's another additional cost each month you don't need to pay for.
Based on what WPX Hosting can do for you, the price is still low enough to make signing up with them a no-brainer.
Free migration with WPX Hosting
Stuck with another web hosting company and reluctant to move because your sites are all there? Don't panic. There's a tab on the WPX Hosting interface that you can use to get them to migrate your sites for you. You won't have to do a thing. They'll do it all for you. They moved 40 of our sites within 2 days. It would've been faster but we only gave them 5 at a time to do. They have all moved across perfectly. One of our sites has nearly 900 blog posts and they didn't ask for extra or raise an eyebrow. It was the seamless movement that I'd only dreamed was possible. Not a single image was missing. In the past when I was migrated I found images were often missing. The fact this didn't happen with WPX made me very happy.
Free SSL certs with WPX Hosting
With Google blatantly pointing out security issues when a site doesn't have SSL, it's crucial that your sites have secure socket layer technology-enabled. Since it's free with WPX Hosting and there's zero-configuration involved, you'll not have to pay for it or worry about setting it all up. It's easy and makes choosing this service even better value for money.
WPX Hosting has DDoS protection
A DDoS attack (distributed denial-of-service) is done by hackers or other malcontents with the intention of bringing down a website. WPX Hosting has measures in place to deal with these attacks.
Your site will be safer and less likely to go down because of such malicious acts. This alone makes a very good case for WPX Hosting and another why we chose it. Having experienced one of these in 2015 and all of our websites were turned off by our former hosting company I was thrilled to see this. Our sites being down for 10 days due to the attack took us 6 months to recover from financially, and about 18 months emotionally.
WPX Hosting Has Daily Backups
WPX Hosting will automatically backup your site/s daily. In the very rare event that your site gets hacked or you lose your data, etc. you'll always be able to restore your site with the backups stored on their servers. We recommend that you have your own off-site back up as well just to be safe.
WPX Hosting Has User-Friendly Interface
WPX Hosting has an interface that's extremely clean and easy to use. They don't use cPanel because it slows down their servers. Instead they have most of the features from cPanel, but displayed in a more navigable interface. Anyone who uses WPX Hosting will tell you that their layout is superior and tidy. It's nowhere as cluttered as the traditional cPanel. You'll have to see it to believe it.
Installing WordPress is EASY! You'll be able to install WordPress on your site with 1 click. That's how simple and fast it is.
WPX Hosting is Trustworthy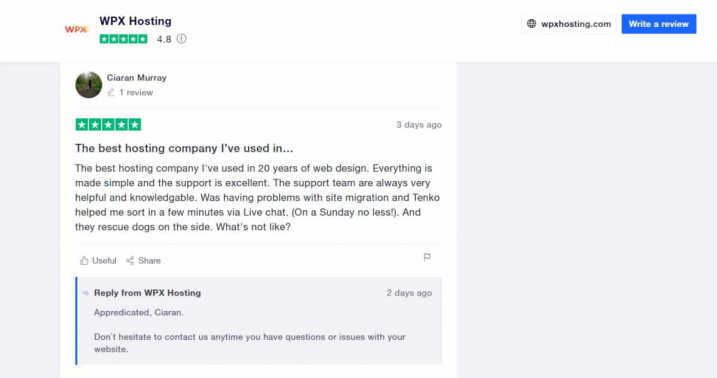 WPX Hosting has a rating of 4.7/5 stars on Trust Pilot. This is definitely a trustworthy web hosting service with many satisfied customers. You can see their rating here: https://www.trustpilot.com/review/wpxhosting.com
My trust with web hosting companies was at an all-time low. We're not stupid, and the responses that we got from various hosting companies made us at times feel we shouldn't even be in business.
Seeing the Trust Pilot reviews for WPX Hosting made us feel more confident in choosing them, especially since we'd had such a bad experience with Siteground and the hosting company we used before them.
The live chat is responded to in less than 30 seconds, and they have yet to make me feel stupid or less than worthy of their service.
WPX Has Staging Areas
You'll easily be able to create a WordPress staging site within WPX Hosting and test out your theme, plugins, etc. When it all looks good and functions smoothly, you can make your site live. This highly technical process is set up in a way to make it very smooth and easy for just about anyone to do. When I did this with Siteground and a client site it was a painful experience that ultimately led to us losing that client. We've since found it wasn't what Siteground was telling us, but something else. Because we didn't know the facts we couldn't "fix" the site in a timely manner, or offer the correct solution. It was horrific looking back, but we trusted them at that point. WPX is a company we love recommending as we know our clients will be loved and looked after.
WPX Has Webmail
You don't need to get separate email hosting if you don't want to. If you migrate your site they'll bring your email addresses over too. They brought over 60 of ours and we were thrilled to have no loss of email service.
The Cons of WPX Hosting
WPX Hosting might not be within the budget of someone who is just starting out online and is strapped for cash. If you only have one website and you're trying to build a business online, you'd be better off with different cheaper hosting if none of the things we mention above matter to you. This is probably the only downside we could find with WPX Hosting, and this too is not really that much of an issue.
Should You Get WPX Hosting?
Definitely. WPX Hosting is one of the best hosting companies around. After all that we've said, we're still only mentioning the tip of the iceberg. They have so much more from 24/7 support to a 30-day money back guarantee. Then there's also their high-speed CDN with 26 global edge locations making it easy to have great site speeds and be GDPR compliant. There's also the company values to take into account.
WPX has a committed mission going back years to funding welfare projects for homeless and shelter dogs (cats sometimes too) and in 2019, they established their own non-profit foundation to accelerate and expand that work: https://everydogmatters.eu/. The work of Every Dog Matters is fully funded by WPX and the foundation's team works out of WPX HQ.
For us, the funding of welfare projects for homeless and shelter dogs was the icing on the best hosting cake. When we sell our courses and done for you services we make donations to the homeless and to food banks. To find a web hosting company that also looked out for others made them a company we wanted to work with. So it was Au Revoir Siteground and Bonjour WPX.
We've now been with WPX since March 2020 and it was one of the best business moves we've ever made. In fact, we're thinking of shifting all of our domains to them as they offer free whois privacy forever on domains purchased at WPX.
Take a look at WPX Hosting here. We're really happy to be with a web hosting company that we trust, and we know you will be too.