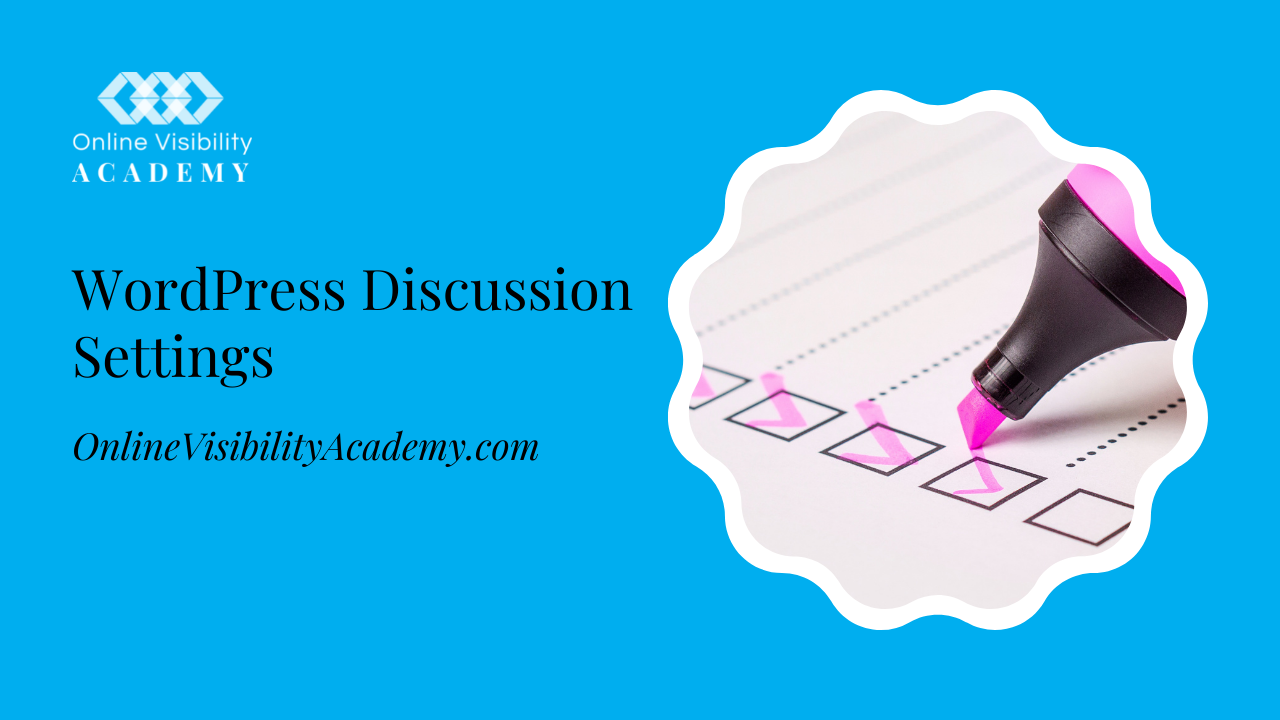 All the settings on the discussion settings page deal with how readers leave comments on your blog. If you want your blog readers to interact with you and others please take special note of these settings. Each setting is discussed in more detail below.
Default Post Settings – There are 3 options for this setting that deal with notifying other blogs about any links you may have included in your blog post or vice versa.
Attempt to notify any blogs linked to from the post – If checked, WordPress will notify other websites when you link to them.
Allow link notifications from other blogs (pingbacks and trackbacks) on new posts – If checked, WordPress will accept notifications from other blogs that they have linked to your blog.
Allow people to submit comments on new posts – If checked, this option enables readers to leave comments on your blog post.
These are just the default settings for each blog post. Each of these settings can be changed on each individual blog post basis.
Other Comment Settings – The following 7 settings control what information readers are required to give to leave a comment, who exactly can leave a comment, and how your comments are displayed.
Comment author must fill out name and email – If checked, this option will require every reader to enter a name and email address in order to leave a comment on a blog post.
Users must be registered and logged in to comment – If checked, this option will require every reader to have an account on your site and to be logged in to leave a comment.
Automatically close comments on posts older than ___ days – If checked, this option will remove the option to leave comments after the number of days you indicate. This is useful to help stop spam.
Show comments cookies opt-in checkbox, allowing comment author cookies to be set – If checked, this option will give your reader an option to have WordPress set a cookie on their computer and to save their information. Check the privacy laws in your area to see if you have to enable this option. If in doubt, enable it.
Enable threaded (nested) comments ____ levels deep – If checked, this allows reader comments to be nested together up to the number of levels you indicate. This makes replies to comments easier to follow.
Break comments into pages with ____ top level comments per page and the _____ page displayed by default – If checked, this option will break a large number of comments into more readers friendly pages as indicated. The first blank indicates how many comments to display per page and the second blank indicates whether to show the first or last comment first.
Comments should be displayed with the older/newer comments at the top of each page – This option gives you the choice to display newer or older comments first. A majority of blogs display newer comments first.
Email Me Whenever – These two options allow you to choose what type of email notification you will receive when comments are left on a blog post. The email used is the administration email address set under the General Settings.
Anyone posts a comment – If checked, WordPress will send an email notification for all comments.
A comment is held for moderation – If checked, WordPress will send an email notification for all comments that are held for moderation. This is helpful in order to quickly moderate and publish non-spam comments from your new readers.
Before a Comment Appears – The following two settings deal with when comments will appear on the blog post.
Comment must be manually approved – If check, all comments will need to be approved by a user in the WordPress admin area.
Comment author must have a previously approved comment – If checked, if a reader has a previously approved comment, any comment they leave going forward will not be moderated and automatically approved.
Comment Moderation – You can automatically send comments to moderation if they contain more than a certain number of links or certain keywords. By default, if a comment has 2 or more links WordPress will place the comment in moderation. You can increase or decrease that number to meet your needs.
Comment Blacklist – If you need to block someone from leaving comments, you can enter their name, URL, email, or IP address and WordPress will automatically block them. You can also add keywords to automatically block certain comments.
Avatars – Avatars are images that you can use to represent yourself on websites. WordPress uses Gravatar.com to display and show avatars.
Avatar Display – If checked, WordPress will show user avatars next to their comments and author's avatars with their content.
Maximum Rating – When a user signs up at Gravatar.com they are asked to rate their gravatar. This option allows you to choose which rating of avatar you are willing to display. This helps prevent any inappropriate images from appearing.
Default Avatar – If a user does not have an avatar, WordPress will display the default in its place. You can choose that default avatar at this place in the settings.
If you want to build a community around your WordPress site then the discussion settings are important. You need to be able to let readers leave comments, but still be able to manage it all in an efficient manner. By carefully choosing your comment moderation options, you will be able to keep spam comments from appearing on your blog posts and still allow the readers you want to communicate with the ability to do so.